---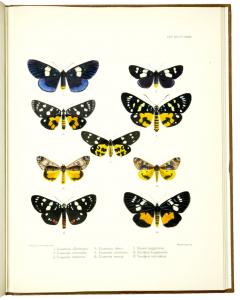 Illustrations of typical specimens of Lepidoptera Heterocera in the collection of the British Museum.
Eur 500 / USD 650
The price shown does not include 9% V.A.T. As a result of the EU legislation we are required to charge our EU customers 9% V.A.T., unless they possess a V.A.T. registration number.
London, Printed by order of the Trustees, 1879-1893. Volumes 3, 5, 6 and 7 (of 9). 4to (320 x 250mm). With plates 41-60, 78-100, 101-120, 121-138, all beautifully handcoloured lithographed plates, and descriptive text. Publisher's cloth.
Arthur Gardiner Butler (1844-1925) was Assistant Keeper of the Department of Zoology for a period of 38 years. "The object of this work is to facilitate the study of Lepidoptera Heterocera by giving illustrations, accompanied by short diagnoses, of the typical specimens in the British Museum from which species have been described in other works or are described now for the first time" (from the Introduction). First volume with library stamp on plates.

Nissen ZBI, 781.