---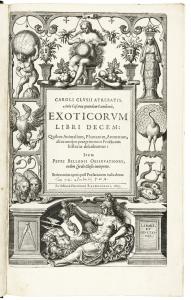 Exoticorum libri decem: quibus animalium, plantarum, aromatum, aliorumque peregrinorum fructuum historiae describuntur: Item Petri Bellonii Observationes...
Eur 12,000 / USD 14,400
The price shown does not include 9% V.A.T. As a result of the EU legislation we are required to charge our EU customers 9% V.A.T., unless they possess a V.A.T. registration number.
Leiden, Officina Pantiniana, Franciscus Raphelingius the younger, 1605. Folio (340 x 210mm). pp. (xvi), 378, (10); 52; (28); (xii), 242, (2), with engraved title, two woodcut maps of the Hellespont and Alexandria, and 275 woodcuts in the text (96 non-botanical). Contemporary richly gilt calf with a large monogram within a lozense stamped gilt border on both covers, spine in 8 compartments with gilt lettered label.
devoted to exotic plants and animals
First edition of sequel to the author's 'Rariorum plantarum historia', 1601, containing further works not published in the former, and mostly devoted to exotic plants and animals. The first six books, Libri I-VI, are new writings by Clusius, devoted to new species of plants, animals, and natural history from the new World, Southeast Asia, Africa, etc. This work is important for the number of new descriptions of non-European plants (and some animals) it contains, among which is the first published record and illustration of a South African plant. 'It is of particular importance to us in containing an illustration of a dried inflorescence of 'Protea neriifolia'. Clusius provided a full description of the specimen, which he referred to as an 'elegant thistle' (Carduus), and reported that it was collected at Antongil Bay on the north-east coast of Madagascar during a Dutch trading expedition to Java in 1597. The locality recorded was clearly incorrect and there can be no doubt that the specimen must have been picked up during a call for fresh water somewhere along the Cape coast. It has the distinction of being the first known botanical object to have reached Europe from South Africa' (Todd and Gunn, Botanical exploration of South Africa, p. 13).
There is an extensive account of exotic seeds sent to him by various explorers. Libri VII-X comprise Clusius' translations, with commentary, of da Orta, Acosta, and Monardes. This is followed by further works by Monardes translated by Clusius, entitled 'Libri tres, magna medicina secreta et varia experimenta continentes' (on the bezoar stone, iron, snow, etc), 'Libellus de rosa' and 'Dissertatiuncula de citriis'. This is followed by the 'Altera appendix', intended as a supplement to the 'Rariorum plantarum historiae', and finally Clusius' translations of and commentaries on Belon, the ' Plurimarum singularium & memorabilium rerum in Graecia, Asia, Aegypto, Iudaea, Arabia, aliisque exteris provinciis an ipso conspectarum observationes' and the 'De neglecta plantarum libellus'.
There are various issues of the different sections of the book. This copy has the first state of the prelims, without the two leaves of verses (printed 1606-7) added later to a few copies. The 'Altera appendix' is in the final state, with the additional gathering ***4, containing flowering dates to 1605.

Provenance: Inscription of Petri Uffenbachii on engraved title. Peter Uffenbach 1566-1633 was a famous physician of Frankfurt and author of several medical works and editor of a new edition of Lonicer's 'Kräuterbuch'. Bookplate of Alfred Schmid on free endpaper.

Hunt 182; Johnston 151; Nissen BBI, 370; Stafleu & Cowan TL2 1150; Wellcome 1512.