---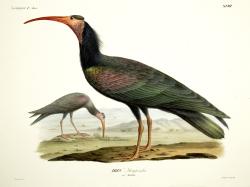 Symbolae Physicae seu Icones et Descriptiones Avium quae ex itinere per Africam Borealem et Asiam Occidentalem Friderici Guilelmi Hemprich et Christiani Godofredi Ehrenberg... edidit Dr. C.G. Ehrenberg.
Eur 2,800 / USD 3,400
The price shown does not include 9% V.A.T. As a result of the EU legislation we are required to charge our EU customers 9% V.A.T., unless they possess a V.A.T. registration number.
Berlin, ex Officina Academica, 1829. Folio (510 x 355mm). With 10 hand-coloured lithographed platesnumbered 11-20. Unbound in original printed portfolios.
The plates are beautifully executed with very fine hand-colouring
The always lacking second part of the bird section, it was published without text and was never distributed, and only a few copies are known. The plates are beautifully executed with very fine hand-colouring. "Zehn weitere Vögel-Tafeln (Decas secunda) wurden gedruckt, jedoch, da ohne Text, nie ausgeliefert" (R, Schlenker. Bibliographie der Deutschen Vogelkundlichen Literatur... 98.1). The complete work comprises 12 parts and was published from 1828 to 1900. A rare and important work on the natural history of North Africa and the Middle East, comprising sections on mammals, birds, insects, and invertebrates, with supplementary fascicules on zoology and botany. Ehrenberg studied at the University of Berlin (M.D., 1818) and was associated with the university throughout his career. He took part in a scientific expedition (1820?25) to Egypt, Libya, the Sudan, and the Red Sea under the auspices of the university and the Prussian Academy of Sciences. The expedition?s only survivor, he collected about 34,000 animal- and 46,000 plant specimens.

Nissen IVB 290; Junk, Rara p. 138.