---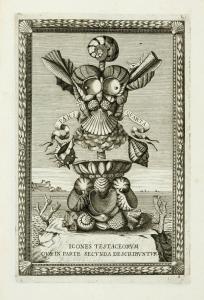 Musaeum Kircherianum sive Musaeum A.P. Athanasio Kirchero in Collegio Romano Societatis Jesu iam pridem incoeptum nuper restitutum, auctum, descriptum, & Iconibus illustratum.
Eur 7,500 / USD 9,000
The price shown does not include 9% V.A.T. As a result of the EU legislation we are required to charge our EU customers 9% V.A.T., unless they possess a V.A.T. registration number.
Romae, Typis G. Plachi, 1709. Folio (357 x 245mm). pp. (xii), 522, including the portrait frontispiece and 172 engraved plates. Contemporary vellum (frontcover with old repair at upper right corner)
A special section is devoted to shells, 48 beautifully engraved plates depicting 412 specimens
The first 180 pages with moderate dampstaining at the right upper corner. The first illustrated edition of Kircher's famous 'Wunderkammer'. "Kircher, like his contempory Henry Ashmole, was a collector of curiosities. He was in an excellent situation, at the hub of the jesuit order, to gather relics, specimens, manuscripts, and any oddities or rarities his fellow Jesuits brought back to Rome from all parts of the world. His study overflowed, and scholars visiting Rome would not think leaving without visiting Kircher in his study and examining his collection. In 1678, the Museo Kircheriano was at its peak, with a new exhibit hall and a printed catalogue. After his death, Kircher's museum, like Ashmole's of the same date, began to decline. Filippo Bonanni restored it in the first decade of the next century and published a catalogue, 'Museum Kircherianum ..." (Rome, 1709), but after his death more decay set in" (B.L. Merrill. Athanasius Kircher (1602-1680) Jesuit Scholar p. xxvii).

Buonanni, apart from being Kircher's pupil and successor at the Collegio Romano, was an excellent conchologist. A special section is devoted to shells, 48 beautifully engraved plates depicting 412 specimens. These are as Dance notes better drawn than the figures in his own earlier work, the 'Recreatione dell' occhio' (1681). Former owner's stap on title. The pagination of the work is erratic, however our copy is complete and agrees with Smithsonian copy which is on internet. A very few leaves with tiny marginal tear and title-page with minute hole.

Nissen ZBI, 2198; Cobres I, p. 106.