---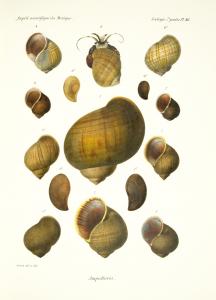 Études sur les Mollusques Terrestres et Fluviatiles du Mexique et du Guatemala.
Eur 6,500 / USD 7,800
The price shown does not include 9% V.A.T. As a result of the EU legislation we are required to charge our EU customers 9% V.A.T., unless they possess a V.A.T. registration number.
Paris, Imprimerie Nationale, (1870)-1902. 3 volumes (2 text vols & atlas). Folio (345 x 255mm). pp.(4), 702; pp. (6), 731; pp. (6), with 72 lithographed plates of which 46 finely hand-coloured. Contemporary red half morocco, gilt lettered spines in 6 compartments.
La faune malacologique du Mexique et du Guatemala est une des plus intéressantes de l'Amérique
The present rare work is the 7th volume of famous French zoological expedition to Central America 'Recherches Zoologiques pour server à l'Histoire de la Faune de l'Amérique Centrale et du Mexique sous la direction de M. Milne Edwards'. According to the 'Dates de publication' in the second volume the first part was published in 1870. The first part was printed in Paris at the Imprimerie Impérale. Since Napoleon III fell from power that year subsequent parts were printed at the renamed Imprimerie Nationale. Paul Henri Fischer (1835-1893) published numerous contributions on malacology and was editor of the 'Journal de Conchyliologie'. "Crosse may be regarded as the doyen of systematic conchologists in France during the second half of the nineteenth century" (Dance, P. A history of shell collecting page 163).
"La faune malacologique du Mexique et du Guatemala est une des plus intéressantes de l'Amérique, particulièrement au point de vue Mollusques terrestres et fluviatiles. En effet, ces deux pays constituent une sorte de région centrale, dans laquelle viennent se rencontrer les formes du nord et celles du sud de l'Amérique, augmentées de quelques-unes de celles des Antilles ; de plus, ils renferment un nombre relativement considérable d'espèces et même de genres spéciaux, qui impriment à l'ensemble de la faune un caractère d'originalité très prononcé" (From the introduction). An attractively bound copy with some occasional foxing.

Nissen ZBI, 1371.