---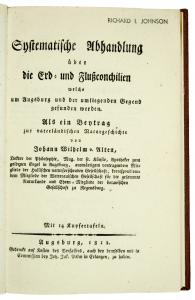 Systematische Abhandlung über die Erd- und Flussconchilien welche um Augsburg und der umliegenden Gegend gefunden werden. Als ein Beytrag zur vaterländischen Naturgeschichte.
Eur 2,200 / USD 2,600
The price shown does not include 9% V.A.T. As a result of the EU legislation we are required to charge our EU customers 9% V.A.T., unless they possess a V.A.T. registration number.
Augsburg, Gedruckt auf Kosten des Verfasser, 1812. 8vo (210 x 135mm). pp. xvi, 120, with 14 hand-coloured engraved plates. Recent cloth, spine with gilt lettering.
A rare privately published work. Johann Wilhelm von Alten (1770-?) was an apothecary (Apotheker zum goldenen Engel) and naturalist in Augsburg. He also published a regional flora of Augsburg in 1822 and some pharmaceutical articles (see Ferchl p.8). "Ich beschrieb hier 58 Species und liess 26 derselben abbilden; der Künsler und Naturalienmahler, Herr Joseph Ignaz Hörmann, welcher mir die Zeichnungen lieferte, ist selbst ein sehr aufmerksamer, anspruchloser Naturforscher, dem ich dieses Geschäft vollkommen anvertrauen konnte, und welcher nicht bloss mechanisch sondern wissenschaftlich zu Werke geht" (Introduction p. 9). The engraved plates are delicately hand-coloured. Joseph Ignaz Hörmann (1775-1820) was an Augsburg nature painter. Plates with brown spot at the upper right corner. Name of Richard I. Johnson on title.

Nissen ZBI, 79.