---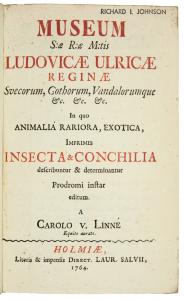 Museum S(veci)ae R(egin)ae M(ajes)tis Ludovicae Ulricae Reginae Svecorum, Gothorum, Vandalorumque &c. &c. &c. In quo Animalia Rariora, Exotica, imprimis Insecta & Conchilia describuntur &
Eur 2,800 / USD 3,400
The price shown does not include 9% V.A.T. As a result of the EU legislation we are required to charge our EU customers 9% V.A.T., unless they possess a V.A.T. registration number.
determinantur prodromi instar editum. Holmiae, L. Salius, 1764. (together with:) Museum ... AdolphiFriderici Regis Svecorum ... in quo Animalia Rariora imprimis & exotica: Aves, Amphibia, Pisces describuntur. Tomi secundi prodromus. Holmiae, L. Salvius, 1764. 2 volumes i n one. 8vo (195 x 125mm). pp. (8), 720, (2); 110, (2). Recent blue cloth, gilt lettered spine.
describes the famous natural history cabinet of the Swedish Queen
First editions of two works which were published together. The first work describes the famous natural history cabinet of the Swedish Queen, Louisa Ulrica, and is important as it establishes binomial nomenclature for insects and shells. Pages 1-462 concern insects.
"In the cabinet of his queen, Louisa Ulrica, shells were the principal ornament; and in 1751 she commissioned Linnaeus to describe them. Linnaeus had completed his manuscript by 1754 but the descriptive catalogue, often referred to as the 'Museum Ulricae' was not published until 1764 by which time the twelfth edition of the 'Systema Naturae' was in preparation. Consequently, the Queen's collection, upon which Linnaeus relied heavily for the descriptions of many molluscs, helps us to understand some of the species described in the tenth and twelfth editions of the 'Systema'. Most of the 434 species described in the 'Museum Ulricae' are large, exotic forms and many can still be seen in the Zoology Institute of the University of Uppsala" (Dance p. 35). The Queens magnificent collection of insects and shells mainly from India was unrivalled anywhere in the world and was kept at Drottningholm. The second much smaller work describes the zoological collection of the King. Former owner's stamp on title-page. A fine copy.

Soulsby 1095a.